Webinars are a great way to learn gardening information from an expert in the comfort of your own home. I offer webinars on popular gardening topics such as Container Gardening, Cottage Gardening, Native and Invasive Plants, Growing Bulbs, Organic Pest Control, Pollinator Gardening, and Foodscaping/Edible Landscaping.
Each Webinar is 1 hour long and can be watched as many times as you like.
Here's a 2 minute Sample from my past Container Gardening Webinar to review
Testimonials From My Webinars:
"Thanks you for all you do for gardens and gardeners. I saw and enjoyed tonight's webinar on Cottage Gardening. You are such fun to learn from."

"This was a great webinar! Thank you. I picked up a few good tips and you also helped to confirm a few things I've been doing right! Adding the garden story (humor), (or history, or experience) was an interesting addition to the webinar. "
"I really enjoyed this webinar and learned a lot! I thought it was well-organized, the delivery was great, and the time flew by – could have easily filled another hour."
Loved it! Great comprehensive coverage of topic. Excellent choice of visuals to highlight topic."
Thousands of gardeners have enjoyed my presentations around the country for years. Now you don't have to travel to see and hear me present on various gardening subjects. You can purchase my webinars, watch them again and again in the comfort of your own home whenever you like.
Below are webinars I presented in the past few years on Container Gardening, No-Dig Gardening and Raised Beds, Ecological Gardening and Companion Planting, Organic Gardening Pest Controls, Fall Gardening Chores, Foodscaping, Cottage Gardening, Plants for Problem Places, Pollinator Gardening, Berry Growing, Growing Bulbs, and Natives, Invasives and Weeds. Purchase the webinars here and happy watching!
View the available past webinars below and click on the buttons to learn more about each webinar and to purchase.
They are for sale for $9.99 each.
Ecological Gardening & Companion Planting Webinar
Fall Gardening Chores
Webinar
Gardening for the Birds
Webinar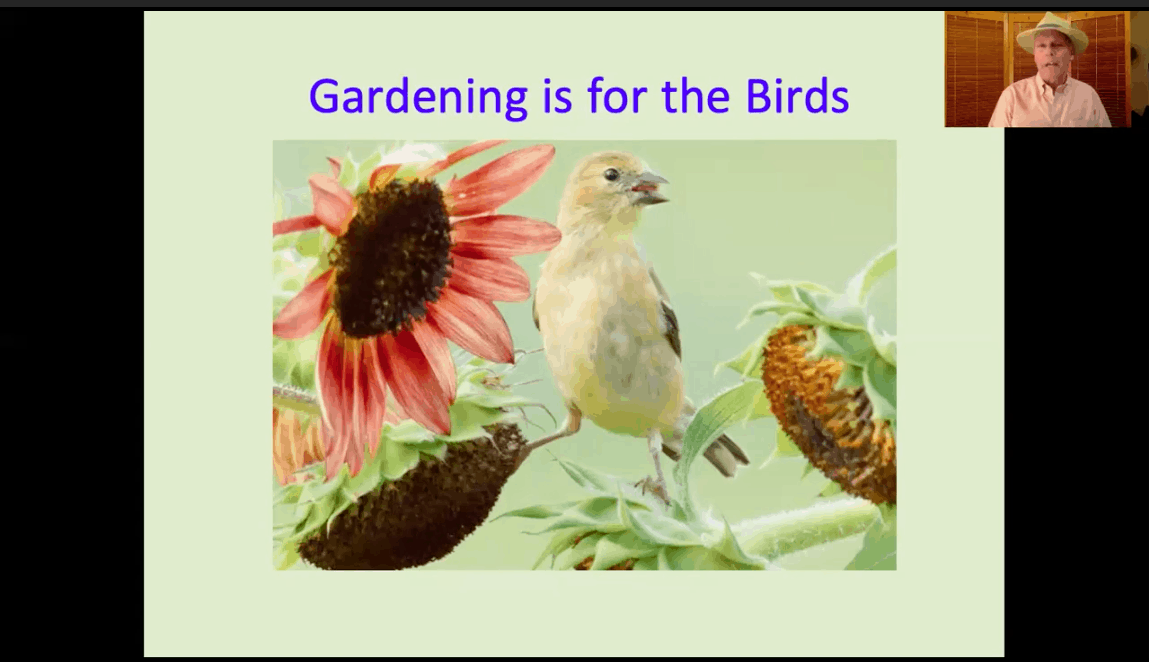 No-Dig Gardening & Raised Bed
Webinar
Natives, Invasives & Weeds
Webinar
Grow a Pollinator Garden
Webinar
All About Berries
Webinar
Plants for Problem Places
Webinar
Foodscape Gardening
Webinar
Cottage Gardening
Webinar
Container Gardening Revolution
Webinar
Organic Gardening Pest Control
Webinar
Edible Gardening Package
Webinar
Growing Flowering Vines
Webinar
Growing Summer Bulbs
Webinar
All About Houseplants
Webinar
Lilacs and Hydrangeas
Webinar
Soils and Mulches
Webinar