Charlie is regularly heard on the radio across the country. He's been a guest expert on shows such as Martha Stewart Live on Sirious Radio and National Public Radio.
"Charlie has such a talent for quick engagement and just the right amount of information. I really appreciate his craftsmanship. He's a natural on-air talent and that's so rare with people who know their field so well,"
Susan Els, landscape designer and David Els, former President and Chairman of the Board of the National Gardening Association.
Contact Charlie (cnardozzi124@gmail.com) for any freelance radio or podcasting projects.
Vermont Edition. Charlie Nardozzi
Catch Charlie as a regular guest on this call-in show answering gardening questions from across New England. Listen to a recent show.
The All Things Gardening on Vermont Public Radio
This show gives timely, fun, how-to advice about gardening. This 5-minute long segment airs weekly on Vermont Public Radio on Sundays at 9:35am. Segments are timely, informative and fun with Charlie and Mary Engisch covering such topics as invasive plants, Japanese beetles, and poison ivy. You don't live in Vermont? No problem. You can also listen to current and past All Things Gardening shows on Vermont Public Radio broadcasts on the website.
The Connecticut Garden Journal
This show offers gardening tips, techniques and plants you'll need to successfully garden in Connecticut. This 2:00 broadcast airs weekly at 8:58pm on Thursdays, and 11:57am on Saturdays  on WNPR. Charlie covers current topics in gardening in Connecticut with emphasis on organic food growing, low maintenance flower gardening, native plants, and organic pests controls. Listen weekly to Charlie's program or stream it off the Connecticut Garden Journal website.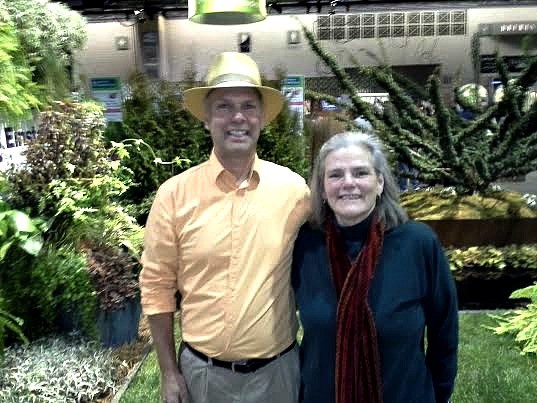 In the Garden: Charlie Nardozzi and Ginny McGehee.
WJOY-AM 1230, Burlington, Vermont. Thursday mornings from 9am – 10am; Replay on Saturday mornings from 10am -11am. Listen to Charlie and Ginny as they joke, laugh, and yes, answer gardening questions on this lively call-in show.
Check out the present and past shows here.
Easy Organic Gardener
Listen here to my appearance on this nationally syndicated radio and web show.