Charlie's Late November Newsletter
Indoor Herb Garden, Violas for Winter, Holly for the Berries, and Webinar of the Week: Birds
I hope everyone who celebrated Thanksgiving had a great day. It's always good to be thankful for our harvest and beauty of our gardens. It's particularly satisfying to make and eat dishes made from our own produce. But now, despite my resistance, the Christmas holiday rush is upon us. It's important to remember your garden, finish up fall gardening tasks and start asking Santa for some favorite garden tools, seeds, and plants.
One great holiday gift for someone new to gardening who just wants a little touch of fresh edibles in winter is an indoor herb garden. Even in a Northern climate, and even in a window that doesn't get full sun all day, you can grow some herbs into winter. I talk about setting up the indoor herb garden here, as well as some of the best herbs to grow under "not quite ideal" conditions. Read more here.
I was thinking of flowers for the holidays and, of course, amaryllis, Christmas cactus and poinsettias came to mind. But one other flower that might be a great gift or one you might want in your home is the viola. Florists and some garden centers still offer violas and pansies in late fall and they are worth growing as a houseplant and later as an outdoor plant. Learn more about violas or pansies here.
I remember when I was young, my mom would send me out to collect evergreen boughs of mountain laurel and wild berries to decorate her planter in winter. There are many shrubs that produce great berries for collecting and decorating and the most popular is the holly. I talk about holly plants and their berries here.
In this newsletter I'm starting to highlight some of my webinars for sale. In each issue I'll talk about a different one that I've recorded in the past few years and about the information you'll  learn if you watch it. In this issue I'll focus on Gardening for the Birds. Our feathered friends can use our help and I talk about ways to feed and provide habitat for birds. Learn more here.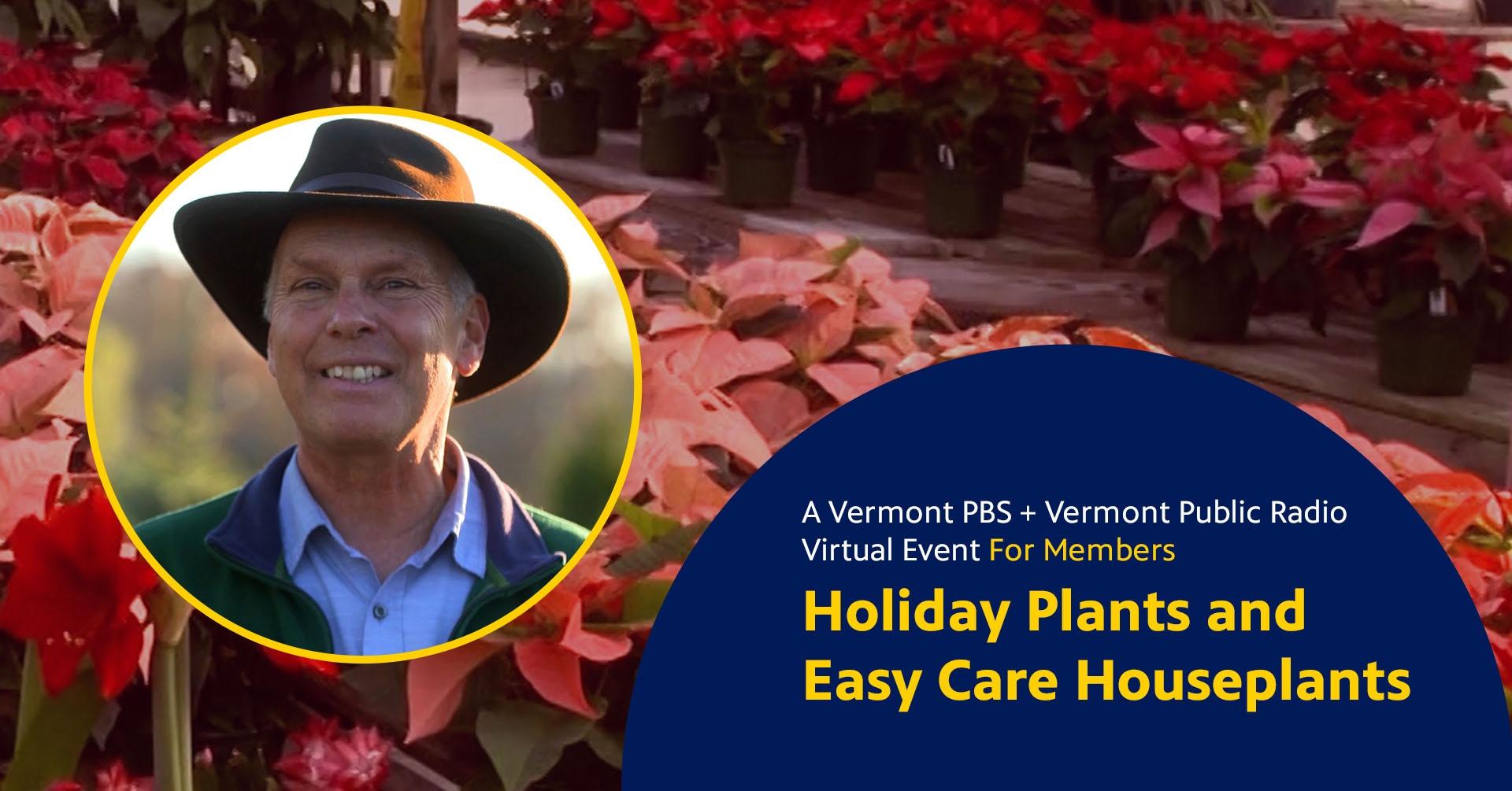 Also, I have a webinar coming up this week! I've teamed up with Vermont PBS to offer a Webinar on December 1st, 2021 at 7pm Eastern time on Holiday Plants and Easy Care Houseplants. In this webinar I'll talk about care for popular holiday plants such as Christmas cactus, Poinsettias, and Amaryllis and a few others, too. Then I'll dive into houseplants. I particularly want to talk about houseplants that are low maintenance, grow in low light and offer colorful leaves and bracts.
After my talk, there will be a Q/A session. This will be an opportunity to ask questions about your specific holiday plant and houseplant. So, come join me on Wednesday, December 1st, 2021.
Until next time, I'll be seeing you in the garden.
Charlie
---
Where to Find Charlie:(podcasts, TV and in-person)
---
After the feast of the Thanksgiving meal is over, you might be interested in having some fresh herbs around the house for the other upcoming meals for Christmas, Kwanzaa and New Years. In warm winter areas, growing herbs outdoors year round in a protected spot is possible. In a cold winter climate, the simplest way to have fresh herbs around is to grow them indoors. Windowsill herb gardens can be effective if you use the right plants and varieties, have enough light and keep them protected from the cold.
The first step is to find a windowsill, door or large window that gets the most amount of light possible in winter in your area. Ideally, you'll have at least a 1/2 day of light coming through on a sunny day. Of course, you can also use indoor tabletop grow kits that have fluorescent or LED lights to help your plants grow. If you have a suitable space, then it's time to get some pots, soil and herbs. Look for small pots that are 2- to 4-inches in diameter to sit on a windowsill or table. They're large enough for most indoor herbs. Purchase some potting soil and then go plant shopping.
More and more garden centers are offering small herb plants in winter for people wanting to grow an indoor herb garden. Not all herbs will grow well with our diminished light levels and day length this time of year. The best herb plants to grow now are chives, parsley, cilantro, rosemary, thyme, oregano and mint. Avoid basil or any bright light loving herbs unless you have a grow light. You can start these herbs from seed indoors, but that's going to take months to get a plant large enough to harvest and eat from. It's better to look for herb transplants at garden centers.
Once you have your herbs in pots close to a window or door, make sure there are no cold drafts. That can kill these plants quickly in winter. Also, don't over water. Many of these herbs are used to well-drained soils, especially in winter. Since the days are short, you may not get lots of new growth, but that's okay. You'll probably have enough to snip some leaves for your favorite recipe.
As the days lengthen in February and March, you'll notice more growth. Start fertilizing lightly and increase watering as needed. By spring you can transplant your small herbs into a larger pot or into the ground to enjoy all summer. 
Violas for Winter

We all get excited about having flowering plants around for the holidays. Poinsettias, Holiday Cactus and Amaryllis are the most popular and I talk about growing them in my upcoming webinar (December 1st) with Vermont PBS, Holiday Plants and Easy Care Houseplants. Check it out!
But there are other plants that can give you some winter cheer and make for great indoor and outdoor plants. If you live in warm winter areas of the Gulf Coast, Texas, Arizona and California, you're well aware of the winter primroses and violas that adorn many public and private containers around town. These flowers love the outdoor cool temperatures and can even withstand a light frost. They bloom all winter and are replaced in spring with other flowers. So, remember to use these winter bloomers in your winter decorations, too, as an accent to more traditional plants.
In cold winter areas, you might spot some primroses and violas/pansies in florist shops and garden centers. They're certainly worth a try to grow in a sunny, window indoors or under grow lights. There are many varieties to grow. 'Columbine Tufted' features light blue flowers with a ruffled edge to the flower petals. 'Halo Violet Tufted' features small purple flowers with yellow centers. This perennial makes for a great ground cover and is fragrant. While growing these outdoors is more of a dream right now in the North, plan for spring by ordering them now. You can also look for pansy and viola plants locally that you can keep in a container indoors.
Once you have your potted pansy or viola, place the pot in a sunny window or under grow lights. Keep the soil on the dry side in winter and avoid cold drafts. You can move the pot to a table as part of a floral decoration as the holidays get closer. They will be fine for a week or two away from the bright light. After the holidays, keep growing them indoors until it gets warm enough to move the plants outdoors.
Learn more about violas and pansies here
How to Grow: Holly

Holiday decorations wouldn't be complete without berries to adorn wreaths, swags and the tree. There are many native berry plants that are fun to collect in winter. Viburnums, dogwoods, nandinas and junipers all can have decorative berries. But, by the far the best and most traditional berry producer is the holly.
Hollies are trees or shrubs that are either evergreen or deciduous. The deciduous winter berry is popular in cold climate areas for its winter hardiness. Evergreen hollies are popular everywhere as an attractive landscape plant and berry producer. You'll need male and female plants in order to get berries. Generally, if you have neighbors within 300 feet with holly plants that are producing berries, they probably already have a male plant. That means you may not have to purchase a male holly to pollinate your female plants. If unsure, buy a male. Generally, you'll need at least one male for every 4 females plants to get berries in fall. Of course, male plants don't produce berries. Some good varieties to grow for berries include the deciduous, 'Winter Red' and 'Winter Gold' and the evergreen 'Blue Prince' and 'Blue Princess'. Remember that some holly plants produce berries in other colors than red.
Hollies grow best in full sun, but will take part shade. They just may not produce as many berries. Depending on the variety, they can grow 2- to 20-feet tall and wide. So, be aware of what variety you're growing and where you're planting it. Deciduous hollies also can tolerate wet soils and like a slightly acidic soil condition.
Evergreen hollies may need winter protection in marginally hardy areas. Most are only hardy to zone 5. Drive 4 stakes around the plants and wrap burlap around the stakes to block the cold, desiccating winds. Prune in spring to remove dead, diseased or damaged branches. Don't prune after flowering or you'll remove some berries.
Plant hollies along your foundation or in a shrub border. Hollies can sucker and produce new plants as they spread. This makes them excellent hedge plants.
So, consider planting some hollies in your landscape. Not only will the plants be attractive year round, especially if they are evergreen, but they will produce berries that your family can use each winter for holiday decorations.  
In Our Garden: Gardening for the Birds Webinar
I've been offering gardening webinars for a number of years to help people who can't make it to my live presentations get the information they need to garden better. I've recorded many of those presentations and offer them for sale on my website. Check them out. They make great stocking stuffers! In each issue of my newsletter this winter, I'll be highlighting one of my webinars. Winter is traditionally a great time to do a little indoor learning and webinars are a perfect tool. Once purchased you can watch my webinars whenever and as many times as you like.
Gardening for the Birds is a more recent webinar I recorded all about how to design and organize your landscape to be more bird friendly. In this webinar, I talk about the plight of song birds around the world and how backyard gardeners can help. I talk briefly about using bird feeders, but mostly focus on plants and practices that will help you help the birds. These include the best berry producing native shrubs and perennials to grow as well as good fall seed producing plants. I give tips such as not cutting back seed producing perennials such as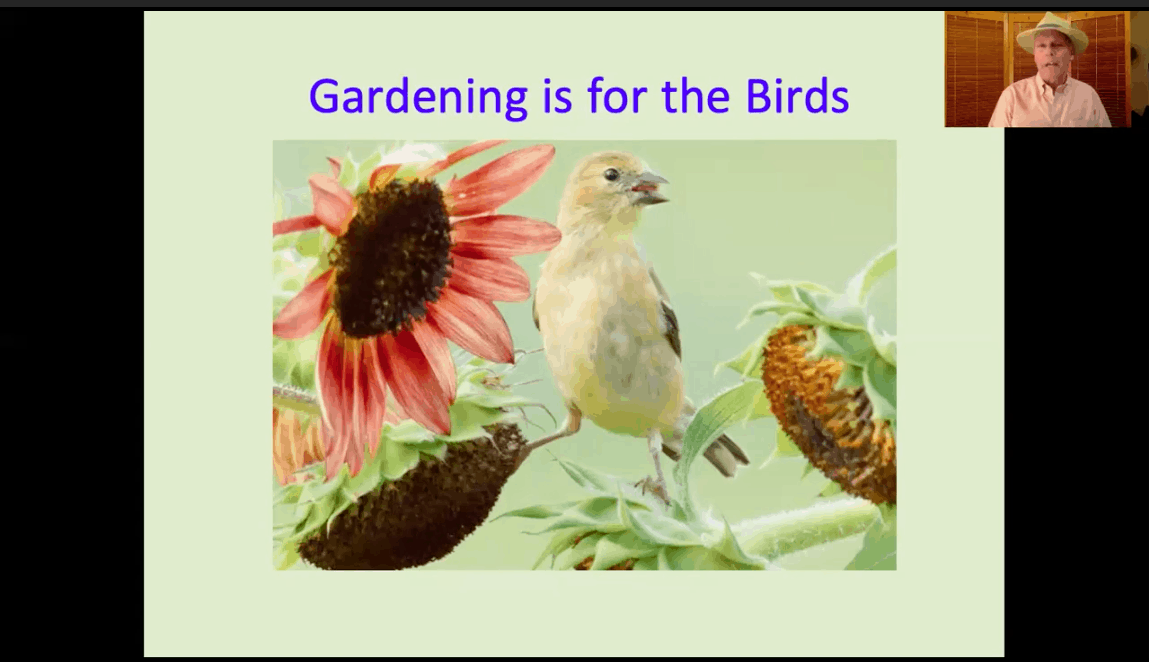 black eyed Susan and Echinacea until spring so the small birds can feast on the seeds all winter. I also, talk about leaving snag trees in your landscape as nesting sites, providing water sources all winter long and growing evergreen shrubs and trees for birds to hide in during the winter.
If you always wanted to do even a little to help the birds in your yard, this webinar is for you.  
Gardening with Charlie, All rights reserved.
Charlie's Late June Newsletter
We have officially hit summer. While the calendar says end of June, our garden is already picking up color from later blooming perennials. One of them is the rudbeckia. They start blooming mid summer and continue right until frost. The number and types of rudbeckias or black eyed Susans out there has increased so you can grow short ones, tall ones, all yellow ones and some with burnt red colored petals. Learn all about rudbeckia in this newsletter.
Another summer plant that's just starting to show color is one of our fruit bushes. Blueberries will be rounding into form soon and it looks like we've got a good crop coming. Of course, we're not the only ones that love blueberries, so in this newsletter I'll not only talk about varieties and growing these shrubs but also ways to protect them from birds. Blueberry fields forever!
Most flowering shrubs are finished for the season, but some haven't even started yet. Summersweet, pepperbush or Clethra is a sun to part shade loving shrub that grows 3- to 6- feet tall and wide. It flowers in midsummer when few other shrubs are blooming, sending up white or pink colored candles with a great fragrance. Read more about summer sweet here.
As many of you know I still write free lance garden articles for a variety of magazines and publications. My recent article on Fig Growing was in the latest issue of the American Gardener Magazine. This is the magazine of the American Horticultural Society. I cover fig growing basics and give tips for growing figs in containers in the North. Read more below.
Enjoy the 4th of July holiday. Take some time to appreciate your own garden and those gardens around you. Now is a good time to start touring, looking at public gardens and private ones that are open. They often will give you ideas for your future gardens and inspire you with their beauty.
Then, come to my talk (if you're in the NY area) on Cottage Gardening on July 10th in Warrensburgh, NY as part of their self-guided, Summer Garden Tour of private gardens. It should be a fun time
Until next time, I'll be seeing you in the garden.
Charlie

---
Where to Find Charlie:(podcasts, TV and in-person)
---
It seems the summer is zipping along in our garden. I noticed some of the early Rudbeckias or black eyed Susans blooming. That's okay with me. These perennial flower workhorses start blooming now and continue right into fall. You've gotta love a perennial flower that likes full sun and part shade, grows on almost any type of soil, doesn't need much maintenance other that weeding out plants as they self sow and spread, takes drought and high humidity and is deer resistant.
If you have black eyed Susans in your garden, you might want to try a few unusual varieties to extend the flower show and add some special interest. 'Prairie Sun' is a beautiful selection that grows 2- to 3- feet tall with large flowers. The blooms have bright golden colored petals and a green cone. This makes 'Prairie Sun' shine even brighter in your garden. It flowers until early fall. 'Goldsturm' is a classic, yellow petaled and brown coned variety that has the added benefit of long-lived flowers. This 2- to 3-foot tall variety with extend the daisy show for weeks in your garden. If you want to add some height to your flower garden or need a tall perennial against a garage or house, try Rudbeckia maxima or the 'Giant' Rudbeckia. It stands 4- to 6-feet tall with golden petaled flowers on top. It's a favorite of finches and other small birds for the seed heads. 'Gloriosa' rudbeckia features petals with a burnt red center on large flowers.
As you can guess, growing rudbeckias is pretty easy. They tolerate many soils, sun and growing conditions that would thwart other more tender perennials. However, you do have give them some attention. After a few years you can divide your plants and spread them around your yard. It's a good way to grow large clumps of rudbeckia that butterflies and bees like. This also keeps them in bounds. Rudbeckias can spread and you'll find plenty of extra seedlings in spring around the older plants. Learn to identify these babies and dig and move them in spring to a new home.
Since deer and rabbits don't usually bother this perennial, they are good plants to put in high wildlife traffic areas and certainly in meadows. Growing rudbeckia as part of a wildflower mix gives you reliable color for years in a meadow planting. They are able to compete with weeds and grasses.
Grow rudbeckias in the garden next to Russian sage, sedum and echinacea for a nice color combination. Black eyed Susans also make great cut flowers so plant some extras just for bringing indoors for the table.
 
 How to Grow: Blueberries

We just had our first taste of blueberries. I know it's early for our zone 5 garden, but we have a dwarf, container variety that loves to be the first producer. It makes up in earliness, what it lacks in size. We're still harvesting strawberries and cherries, but the main crop of blueberries won't be far behind.
If you're looking for a shrub that gives you a low maintenance plant with bell-shaped white flowers and delicious fruit, plus has great, red, fall foliage color, go no further than the blueberry. I talk a lot about blueberries when I speak on Foodscaping or edible landscaping (based on my book).  It's a great shrub for a foundation planting or mixing in with other perennials or low growing shrubs. Since it needs an acidic soil, grow blueberries near other low pH lovers such as azaleas, small rhododendrons, pieris and mountain laurel.
If you're growing blueberries for production, then give them their own space. That way you can treat all the soil with sulfur to get the pH down to the required 5.0. Grow the plants on well-drained, loamy soil. We tried once to grow them on clay and the plants struggled for years. If all you have is clay, raise the beds up adding a thick layer of compost and topsoil. Keep well watered, especially the first year and especially when it's dry. Blueberries have shallow roots so they dry our quickly. We have mulched ours for years with wood chips. As the chips decompose, they create a soil rich in humus that the blueberry plants appreciate.
You'll also notice the size of your berries is dependent on the weather. Dry conditions can result in small berries. So, if you have the water and inclination, keep the soil moist during the berry formation and growth stage for the biggest berries. Keep the plants well weeded.
We like to grow at least three different varieties of blueberries. By planting an early, mid and late season variety, we'll have fruits for a few months. If you don't have room for blueberries in the garden, consider container varieties. These, such as 'Blueberry Glaze' and 'Peach Cobbler' stay only 2+ feet tall and wide and produce good sized fruits. In cold climates protect the container and plants by moving them into a basement or garage.
Some gardeners even like trying to grow low bush blueberries. These produce tasty little treats on creeping plants. They take time to harvest since they are so small, but worth the effort. Low bush blueberries like a well drained soil in full sun with little competition from other plants.
 
Watch my video on controlling birds in your blueberry patch here
Summer Sweet Shrubs

We've had a great show of spring flowering shrubs in our yard this year. Starting with forsythia to lilacs to spirea and weigela, the colors just kept coming. But now it's all over.
That's why I love summer sweet or Clethra shrubs. Summer sweet or pepperbush is unusual in the deciduous shrub world in that it produces flowers in mid-summer, long after all the other shrubs have passed. The plants grow up to 6 feet tall, but there are shorter selections. 'Crystalina' only grows 3 feet tall and wide with the same abundant flowering habit.  They make a great hedge when planted in a row or are nice foundation plants along a house. They tolerate part shade and still put on a flower show.
While the common summer sweet produces candles of white fragrant flowers, there are variations. 'Ruby Spice' has rose changing to pink colored blooms that stand out in the landscape.


Since summer sweet produces flowers off the new stems that form in spring, you can cut it back severely, if necessary, in late winter to shorter the size or rejuvenate the bush. Otherwise, trimming off dead, diseased or broken branches is really the only pruning that is required.
Grow summer sweet as a formal shrub in a border or along a house, in a mixed planting of shrubs and perennials or as a wildlife plant on the edge of your property. Because it flowers in part shade it can handle these various locations. Where ever it's planted it will attract butterflies and pollinators to the flowers, so enjoy the flower show and the beautiful insects that come along with it.
 
There is nothing like the taste of a fresh fig harvested off a tree and eaten immediately. It has a combination of sweetness, crunchiness and chewiness that puts dried figs to shame. But for years that's all I had for figs. That was until I realized that I could grow figs, even in my zone 5 climate. The key was growing them in containers. Not only are containers portable, so I can move them out of harm from cold, hail and wind, I also can move then into a basement to survive the winter. Even if you live in "fig country" (zone 8 and above), growing them in containers has some advantages.
First, you can move them about to protect the trees from harsh weather or pests. No one likes getting their own crop "stolen" by squirrels or birds. But also, containers are a great way to keep your figs dwarf and a manageable size. This helps with protecting them from critters, harvesting and using the plants in your landscape. Certainly many varieties are adapted to container culture such as 'Celeste', 'Brown Turkey' and 'Hardy Chicago'. But there are also varieties that naturally stay small such as 'Little Miss Figgy' and 'Petit Negra'.
The key to containerizing normal, large fig varieties is to root prune them every few years. In late winter remove them from the container, slice off up to 1/3rd of the roots. It will be okay, because figs grow roots quickly. Place the root ball back in the container filled with compost. Add some organic fertilizer and a small handful of lime to help with growth. This will keep the tree producing each year and keep the top a manageable size.
Container figs generally don't need much top pruning. Remove dead, diseased or broken branches as you see them. Trim out crowded branches in the center of the tree. This helps with air flow and reduces fig fruits rotting. Cover trees with netting if birds seem too interested in your figs. One of the major keys for my figs is to keep them well watered. If you neglect watering during fruit set, the small fig fruits will drop. Once they start maturing, you can back off watering a bit so the fruits don't crack. Harvest when the fruits start to droop and are soft when squeezed.
I wrote a story on container figs in the May/June issue of American Gardener Magazine for the American Horticultural Association. Check it out on-line.
 
Copyright © 2021 Gardening with Charlie, All rights reserved.
Gardening with Charlie, All rights reserved.