How to Grow: Flowering Cherry
Prunus spp and hybrids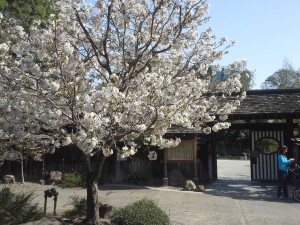 Other Name
Ornamental cherry
Sun Requirements
Full sun
Bloom Period and Seasonal Color
Spring with pink or white blossoms with red or yellow fall color
Mature Height x Spread
20 to 50 feet x 20 to 50 feet with some dwarf versions
Added Benefits
Attracts beneficials fall color
Flowering cherry trees are beautiful additions to the landscape in the yard or as a specialty tree around the house. There are many variations of flowering cherry, but there are three main types grow best in New England. The Oriental cherry (P. serrulata) is the classic flowering cherry of Japanese fame. Selections grow 20 to 30 feet tall at maturity with tons of single or double pink and white flowers, but no fruits. The weeping Higan cherry (P. subhirtella) is a large tree, growing 20 to 40 feet tall, but has a weeping shape with pink flowers and again with no fruits. The purple leaf sand cherry (P. cistena) is a smaller tree with attractive purple leaves and fragrant, white flowers.
When, Where and How to Plant
Flowering cherries are hardy to zone 5. Sand cherries can grow in zone 4. Purchase trees from a local nursery and plant from spring to early fall in well-drained, fertile soil and in full sun. Flowering cherries don't demand highly fertile soils. Space plants 20 to 30 feet apart, closer for smaller species.
Growing Tips
Keep young trees well watered. Create a mulch ring around trees grown in the lawn and cover it with wood chips or bark mulch. This will keep the soil evenly moist, prevent weed growth and protect the trunks from lawn mowers and string trimmers. Fertilize in spring with a tree plant food.
Regional Advice and Care
Flowering cherries can be attacked by a number of insects and diseases. Prune in spring after flowering to remove black knot fungal galls on branches. Protect trees from powdery mildew and fire blight with an organic spray. Watch for aphids, borers, tent caterpillars and Japanese beetles. Handpick or spray with the appropriate organic sprays to control these pests.
Companion Planting and Design
Plant large flowering cherry trees in your lawn as a shade and specimen tree or even along the road. Site the tree where future growth won't grow into power lines or buildings. Plant weeping flower cherries and dwarf versions in foundation plantings, small spaced yards or in mixed tree and shrub borders. These are easier to manage for insect and disease control.
Try These
'Kwanzan' is the most popular Oriental flowering cherry. This double flowered, pink selection is one of the hardest of Oriental types and has orange fall foliage color. 'Royal Burgundy' is similar to 'Kwanzan', but has reddish-purple leaves. 'Mt Fuji' produces double, white flowers and has a slightly weeping habit. 'Pendula' is a single white flowered Higan cherry that grows to 25 feet tall. 'Snow Fountain' and 'White Fountain' produce white flowers and only grow 10 feet tall and wide with golden fall foliage. 'Big Cis' is a purple leafed sand cherry that grows to 15 feet tall with pink flowers and dark purple foliage.
Excerpted from my book, New England Getting Started Garden Guide.