How to Grow: Climbing Honeysuckle
Lonicera sempervirens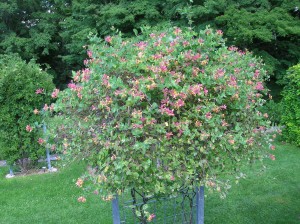 Other Name
trumpet honeysuckle
Sun Requirements
full sun, part sun, part shade
Bloom Period and Seasonal Color
Early to mid summer in colors such as red, orange and yellow
Mature Height x Spread
10 to 20 feet x 3 to 6 feet
Added Benefits
attracts hummingbirds, attracts beneficials, native, deer resistant
This climbing version of the widely grown, native honeysuckle has the beauty and toughness of the bush honeysuckles, with a climbing habit that makes it a great plant for pergolas, arbors and walls. The small flowers often have two colors in one flower and bloom in early summer. They will repeat bloom throughout the growing season, especially if the plant is deadheaded. Some species of climbing honeysuckle are fragrant, too. The small red fruit that emerge after flowering are favorites of birds. However, unlike Japanese honeysuckle (L. japonica), this vine isn't invasive. This fast growing, twining vine is deciduous in our climate, but an evergreen in warmer locations of the country. It's an attractive plant for bees, butterflies, and hummingbirds as well.
When, Where and How to Plant
Climbing honeysuckle is hardy in our region. Purchase plants from a local garden center in spring and plant after all danger of frost has passed right into early fall. Although climbing honeysuckle will grow and flower in part shade, the more sun the vine has, the more flowers you'll get. Plant vines in well-drained, compost-amended soil. Space plants 3 to 5 feet apart.
Growing Tips
Keep climbing honeysuckle plants well watered and mulched with bark mulch to keep the soil consistently moist and to keep weed away. Add layer of compost and an organic plant food for fertilizer each spring.
Regional Advice and Care
Prune climbing honeysuckle after blooming to keep it in bounds and looking attractive. Climbing honeysuckle leaves can get ratty looking by midsummer, especially under hot dry conditions and from insect and disease attacks. Plant in part sun and keep the vine well watered to prevent the leaves from dying back. Reduce the number of insects feeding on the leaves to keep them looking attractive in summer. Climbing honeysuckle is a haven for aphids, mealy bugs and powdery mildew disease. Control aphids and mealy bugs with sprays of insecticidal soap. Control powder mildew with proper pruning and sprays of Serenade organic fungicide.
Companion Planting and Design
Plant climbing honeysuckle to grow up an arbor, trellis, wall or pergola. The vine twine so will need something to wrap around, such as a pole, post or wire. You can also grow climbing honeysuckle down a bank or rock wall, letting it cascade down the slope as well. It looks great as a backdrop to other tall perennials, such as peonies, coneflowers, and bee balm.
Try These
'Alabama Crimson' and 'Magnifica' are popular red flowered varieties that flower throughout the summer. 'Cedar Lane' is a red flowered variety that's more disease resistant. 'Blanche Sandman' is a vigorous orange-red flowered variety. 'Sulphurea' has yellow flowers, but is not as vigorous a vine as 'Blanche Sandman'. 'Gold Flame' is a yellow flowered, Lonicera Heckrottii cross with fragrant flowers.
Excerpted from my book, New England Getting Started Garden Guide.